From the Archives: anniversary of first archbishop of San Antonio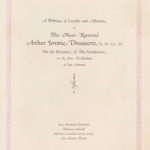 February 16--On this day in 1927, Arthur Jerome Drossaerts was consecrated as the first archbishop of the Catholic Archdiocese of San Antonio in San Fernando de Béxar Cathedral. Drossaerts was born in Breda, Holland, in 1862. He was ordained in 1889 and traveled to Louisiana the same year.
The installation program is in the Catholic Archives of Texas.