Inaugural year for award taps teachers with deep roots in Catholic education AUSTIN – Vivian Conway of Austin and Jerrilynn Miller of Beaumont have been honored as the Texas Catholic Conference of Bishops 2019 Elementary Teacher of the Year and High School Teacher of the Year, respectively. "Both Mrs. Conway and Mrs. Miller exemplify…
Get involved in the political issues shaping life in Texas! Sign up to receive action alerts, education webinars, live events, and updates on our Bishops' public policy engagement.
Texas Catholic Conference of Bishops
1600 N. Congress, Suite B
Austin, TX 78701
512.339.9882
Mailing address: PO Box 13285, Austin, TX 78711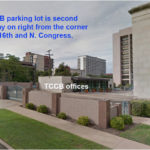 The driveway for TCCB's parking lot is the second one on the right from the corner of 16th and Congress. Click here to enlarge.
Catholic Archives of Texas
6225 E US 290 HWY SVRD EB
Austin, TX 78723
512.476.6296