There are several opportunities for Catholics working in and near the Texas state Capitol to participate in Catholic life in downtown Austin. Every week, more than 50 Masses are celebrated within one mile of the Capitol. Special faith events hosted at the Capitol include: Weekly Rosary On Wednesdays at 8 a.m., Sen. Lucio hosts the…
Get involved in the political issues shaping life in Texas! Sign up to receive action alerts, education webinars, live events, and updates on our Bishops' public policy engagement.
Texas Catholic Conference of Bishops
1600 N. Congress, Suite B
Austin, TX 78701
512.339.9882
Mailing address: PO Box 13285, Austin, TX 78711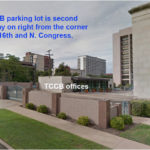 The driveway for TCCB's parking lot is the second one on the right from the corner of 16th and Congress. Click here to enlarge.
Catholic Archives of Texas
6225 E US 290 HWY SVRD EB
Austin, TX 78723
512.476.6296