October 2020 Texas Catholic Voice
In this issue of the Texas Catholic Voice:
Executive Director Jennifer Carr Allmon addresses the election...
Gratitude for a successful General Assembly...
Archivist Selena Aleman provides a Catholic Archives of Texas update...
A Message from Jennifer Allmon, Executive Director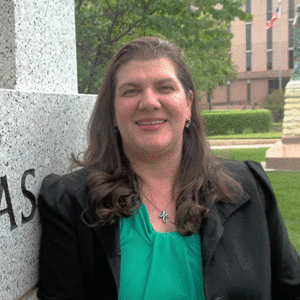 This year especially there has been much said about the importance of voting in the election and the record turnout shows that the message is being heard. An election, however, is just one of many opportunities to raise your voice. After the results are in, we are called to continue to engage with elected officials and challenge them to uphold the life and dignity of the human person from conception to natural death, especially in the areas where they fall short. We must be honest – all candidates fall short. They always will. Because they are not Jesus Christ. He is the only path to salvation and no election will ever usher in the Kingdom of God.   
It's also critical to remember that voting is not the only way that we exercise our responsibility toward the common good. We must commit to service and action in the community. It's not up to an elected official to be our savior. There is only one savior and that is Jesus who calls on us, the faithful, to care for the life and dignity of the human family every day. 
We must heal the division in our community because we are One Church. If you have not already done so, please consider taking the Civilize It pledge on the USCCB website. Civilize It is a non-partisan call to focus on the dignity of all people, even when we disagree, and bear witness to a better way forward. The campaign encourages us to pledge to act with civility, clarity, and compassion in this election year and beyond. 
We must seek Jesus present in one another to find common ground. We must keep the door of dialogue open with those whom we disagree. This is hard to do. In bearing witness for Christ, we must remember that in every person we encounter there is both the imprint of the living God and the stain of the fallen world. We are called to see and respond to both. 
Jesus will be the answer on Nov. 3 and on Nov. 4. Regardless of the electoral outcome—God has already won, he did that on Good Friday. 


On Oct. 19, the Texas bishops and many senior diocesan staff gathered in Austin for the 40th TCCB General Assembly. The theme was Embracing Creative Mission in Pandemic with an emphasis on education, stewardship and development, and communications. With many arch/dioceses struggling during this time, we invited presenters to address critical needs of the Church in these areas.
While we continue to advocate for parental choice legislation, we are exploring new ways to make Catholic education affordable and accessible. EdChoice and The Miles Foundation hosted a panel discussion on innovative school models such as micro schools, blended learning and the resurgence of classical education. Catapult Learning and ADAC discussed the critical need for special education services to close student achievement gaps and address learning losses due to COVID-19.
Prenger Solutions Group and CCS Fundraising provided excellent presentations on stewardship and development and communications. Presenters discussed initiatives to help churches make a bigger impact amidst the uncertainty of the pandemic by leveraging social media to increase engagement with the faithful and encouraging e-giving. Communications and development teams were encouraged to work together in a coordinated effort.
A highlight of the day was a spiritual reflection by Dr. Helen Alvare, in which she called for a new humanity characterized by humility and love of neighbor.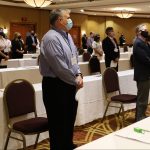 We want to express our gratitude to all of the presenters and sponsors who made this year's event possible and provided such valuable content: Nic Prenger of Prenger Solutions Group; Randan Steinhauser of EdChoice; Grant Coates and Kate Wisniewski of The Miles Foundation; Brad Patterson and Gary Hawkins with CCS Fundraising; Father Tom Olson, Steve Perla, and Dr. Sandra Drummey of ADAC; Carla Ortiz with Catholic Relief Services; Warren Dillon of Catapult Learning; and Joe Garcia and Nicole Polites with eCatholic.
Catholic Archives of Texas Update
In March 2021, the Texas Catholic Historical Society (TCHS) will host a virtual business meeting and panel, "American and Mexican Catholics Partner to Fight Anti-Catholic Persecution in Mexico." At the business meeting, the society's current president, Claudia Anderson, will end her term and current president-elect Amanda Bressie will become president. Dr. Matthew Buttler, associate professor of history at the University of Texas at Austin, will transition to president-elect for the society. TCHS members will be emailed a Zoom link to join the meeting – to update your contact information or join the society, submit our online form. Past journals published by TCHS, including an article written in 2018 by Dr. Buttler, can be found online, too.
Upcoming Texas Executions
Due to Covid-19, there are no executions scheduled for the remainder of 2020.
Please join our bishops in praying for those scheduled for execution, for the victims of violent crimes and for all affected, including their families and communities. As the bishops of Texas wrote in their pastoral letter, "May God give us the grace to witness to the dignity of human life. May the Lord console the suffering, protect our community, and grant conversion to those responsible for the inflicting of death and violence upon others."
The Pope's November Intention
Artificial Intelligence
We pray that the progress of robotics and artificial intelligence may always serve humankind.
The Texas Catholic Voice is a publication of the Texas Catholic Conference of Bishops. For more information, write news@txcatholic.org or call 512-339-9882.