The facts on payday loans
Payday loans are marketed as short-term small cash advances for unexpected, discrete costs. Typically it is a two-week loan term and requires a postdated check or electronic access to a debit account as collateral. An auto title loan has a similar concept. However, it is your car title that serves as collateral. If a borrower defaults (meaning if he fails to pay off the loan at the agreed length of time) the loan company take the vehicle. So what is the problem?
Research from the Consumer Financial Protection Bureau suggests payday loans are set up so consumers fail. Due to the added fees and short period of time, repayment becomes difficult and a cycle of debt in inevitable. In the end, payday loans create greater financial burdens and hurt rather than help consumers.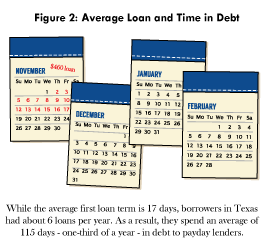 Who uses payday loans?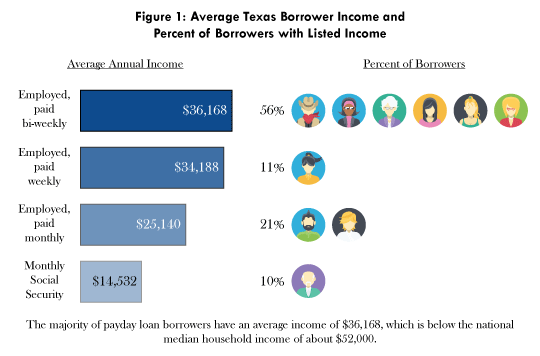 Texans who use these loans have an average annual income ranging from a high of $36,200 to a low of $14,500. While the primary income for a majority of borrowers (56 percent) is a bi-weekly paycheck, the majority of borrowers (58 percent) receive monthly government benefits which were designed to serve the disabled, the elderly, and retired workers. In addition, many military families avail themselves of these products.
The average payday loan debtor will borrow $460 and have an average loan term of 17 days. However, because borrowers in Texas take about six loans per year, they spend an average of 115 days -- one-third of the year -- in debt to payday lenders. These individuals make up the majority of borrowers who have interacted with this lending industry: 64 percent of first-time borrowers end up re-borrowing; 20 percent default outright; and 15 percent repay their loan and fees in full.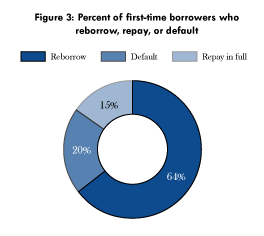 This indicates that the industry primarily receives its revenue from Texans who cannot fully repay the loan, but make repeated good faith efforts to do so.
When combined, fees and interest often reach annual percentage rates (APR) of over 500 percent.  According to data reported by the industry, Texans paid over $23 per $100 borrowed for a 14- to 30-day loan.
And our state's case is not unique. National trends show that 90 percent of all loan fees are paid by debtors who have re-borrowed seven or more times.