Immigrants at the border: how to help
Many people of goodwill are trying to assist people who are approaching our border with Mexico, families who are fleeing violence and seeking a better life for their children. Here are six ways you can help:
1. Call your legislators—your representatives in Congress, your Senators and the White House—and express your opinions. You can find their contact info easily here. You can also use Catholic Charities USA's form, which provides language urging our representatives to reform our broken immigration system.
2. Inform yourself with facts. The misinformation about migrants and refugees is often driven by racism and fear. Listen to the stories of migrants and refugees, and encounter them as individuals. The following websites provide factual information on the issues facing people on the move and the Church's work with them:
3. Help organizations who are helping the migrants now, including:
4. Open your home to a refugee youth. The USCCB offers a list of foster parent programs affiliated with them.
5. Advocate for migrants with friends, family and publicly. They need advocates. The voiceless need your voices.
6. Pray for them!
Catholic Relief Services has developed two prayers below that could assist people struggling with this issue: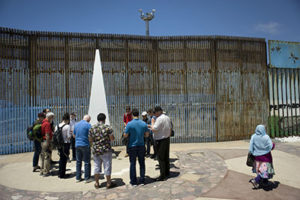 Texas Bishops' statements
Cardinal Daniel DiNardo, Archdiocese of Galveston-Houston: "We urge courts and policy makers to respect and enhance, not erode, the potential of our asylum system to preserve and protect the right to life."
Archbishop Gustavo Garcia-Siller, Archdiocese of San Antonio: "The separation of young children from their mothers at our southern border is immoral. There is no acceptable justification, whatsoever, for this policy, and it should end."
Bishop Edward Burns, Diocese of Dallas: "Recognizing that we are all made in His image, we are prompted to respond to this situation with love, compassion, and mercy. It is my prayer that our legislators and lawmakers will do the same - and do so quickly - in order to alleviate the unjust pain and suffering occurring at our borders."
Bishop Daniel Flores, Diocese of Brownsville: "The immigrant, as immigrant, is not an enemy. To be an immigrant does not make one automatically a criminal to be locked up, either individually or as a family unit. Yes, there are lawless elements among immigrants, but surely we can find ways of distinguishing between criminals that cause people to flee, and those innocents who are fleeing because of these very criminals."
Bishop Michael Olson, Diocese of Fort Worth: "The Catechism of the Catholic Church (CCC) teaches that "the fourth commandment is addressed expressly to children in their relationship to their father and mother, because this relationship is the most universal." The Catechism continues that the fourth commandment also "extends to the duties of pupils to teachers, employees to employers, subordinates to leaders, citizens to their country, and to those who administer or govern it."
Bishop Mark Seitz, Diocese of El Paso: "We fear that if Jesus of Nazareth returned, as at that time, from Galilee to Judea, that is, from San Juan Ostuncalco, Guatemala to Laredo, Texas or from Parral, Chihuahua to El Paso, we dare say he would not get as far as Sacred Heart Church downtown before being detained."
Bishop Joseph Strickland, Diocese of Tyler: "Let us remember it is a child not a tool....to use children reflects the sad devaluing of human life that pervades our society."
Bishop James Tamayo, Diocese of Laredo: "We respect the laws of our government and as people of faith we also adhere to God's greatest commandment to 'Love one another as I love you.' (John 15:12)"
Bishop Joe Vasquez, Diocese of Austin: "Children are not instruments of deterrence but a blessing from God."
Bishop Patrick Zurek, Diocese of Amarillo: "If one is to err, let it be on the side of mercy and concern for the physical, psychological and spiritual well-being of the children and their families."