Texas Catholic Voice: April 26
In this issue of the Texas Catholic Voice:
Executive Director Jennifer Carr Allmon updates on legislative activity...
Engage in legislation being debated this week...
May is Foster Care Month, and a great time to promote the St. Joseph Ministry...
Pope Francis calls for prayers to end the pandemic...
And more!
A Message from Jennifer Allmon, Executive Director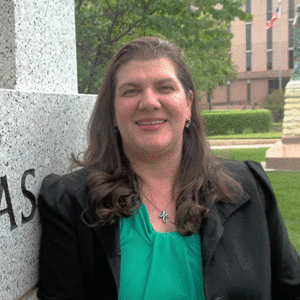 This week is critical for House bills which are still in committee. All House bills must be voted and reported out of committee by May 10 to have a chance of being placed on the House calendar for consideration by the full House. This is a time in the legislative session when advocates can have a major impact. Please contact the legislators who are on committees where bills that are of importance to the TCCB are pending, and please contact members of the Calendars Committee if a bill has been voted out of committee and is being considered for debate by the full House.
House Calendars Committee members are Representatives Dustin Burrows (chair), Joe Moody (vice-chair), Tom Craddick, Cody Harris, Cole Hefner, Ana Hernandez, Ben Leman, Jared Patterson, Toni Rose, Shelby Slawson and James Talarico. Their contact information is available here.
Below are a list of bills which you can ask the Calendars Committee to move (in regards to pro-life issues) and to oppose (in regards to payday lending). Thank you for being an advocate for life and human dignity for all who live in our wonderful state!
Pro-life
There are several pro-life bills before the House Calendars Committee. We have prioritized HB 1280/SB 9 by Rep. Capriglione and Sen. Paxton: The Human Life Protection Act and HB 2337/SB 394 by Rep. Klick and Sen. Lucio: The Chemical Abortion Safety Protocol. Please contact the House Calendars Committee (listed below) to place these bills on the House Calendar, along with:
HB 1291 by Rep. Bell: Conscience Protection for Healthcare Professionals
HB 1173/SB 650 by Rep. Noble and Sen. Campbell: Closing Loophole on Local Abortion Support Tax Payor Funding
HB 3218/SB 1173 by Rep. Schaefer and Sen. Hancock: Pre-Natal Discrimination Act
HB 1515/ SB 8 by Rep. Slawson & Sen. Hughes: The Heartbeat Bill
Payday lending
Payday lending has been an issue of importance to the bishops of Texas for many years, too. A broad "pre-emption" bill, HB 610, is before the Calendars Committee and is opposed by the TCCB. This bill could pre-empt the local payday legislation our bishops and Catholics have supported over the years, as the Texas Legislature has refused to address the harm caused by payday loans in their present form. We oppose SB 1089/HB 2432 by Sen. Dawn Buckingham and Rep. Andrew Murr, which would cause even greater hardships on the working poor, elderly and families with young children. Please contact your representatives today regarding these bills, which are at critical moments.
SB 1089/HB 2432 increases the maximum reference base amount for certain consumer loans from $200 to $300. According to the Texas Fair Lending Alliance, this bill would nearly double the cost of impacted loans for Texans by increasing rates and fees for loans between $1,500 and $2,100. The rates would rise from a cap of 30% interest and a $100 fee — around 35% APR for a two-year $2,000 loan — to an effective APR of 79% or higher. Texas already has higher interest rates than average for licensed consumer loans and would have one of the highest permissible rates with this bill. In addition to opposing these bills, we urge legislators to oppose any amendment to others bills with the language in these bills.
The Texas bishops' perspective on this bill is informed by our direct service and ministry to the poor and vulnerable. Our Catholic Charities, St. Vincent de Paul Societies, parish-based programs, and other ministries see the effects every day of families struggling to survive. We know poor communities have often been underserved by traditional financial institutions and need access to credit. These types of loans only exacerbate the problem with exorbitant interest rates and onerous terms. Instead, we support alternative financial products, such as St. Vincent de Paul's Mini Loan Program and payday conversion loans, and promote Catholic Charities' financial assistance programs.
The Texans bishops join Pope Francis who said, "Usury humiliates and kills. Usury is a grave sin. It kills life, stomps on human dignity, promotes corruption, and sets up obstacles to the common good."
Cross-sex transition and gender reassignment
The bishops seek to promote strong, stable, and healthy families, and oppose direct threats to innocent human life, from conception to natural death. Our opposition to hormonal therapies and surgeries that aim at cross-sex transitioning or gender reassignment comes from this concern for the health of children and their families. For these reasons, we support SB 1646/HB 4014 filed by Senator Charles Perry and Representative Cole Hefner. For more information on this legislation, click here.
End-of-Life/Advance Directives
We remain opposed to HB 2609/SB 917 as there have not been any meaningful efforts to negotiate with major stakeholders including the bishops, healthcare providers, pro-life groups, and disability rights organizations. If legislators are being presented with compromises to improve HB 2609/SB 917, these are not conversations that have included us. There is no path to compromise without discussion and transparency.
Our resolve to pursue these needed reforms will not abate.  We remain committed to our unwavering celebration of the preciousness of life, our support for conscience protection for healthcare professionals, and our deep compassion for patients and families when God is clearly calling a loved one home.
We call on the House Public Health and Senate Health and Human Services committees to reject HB 2609/SB 917 and instead to engage in a true interim stakeholder negotiation.
Bills in Committee April 26-30
House Juvenile Justice and Family Issues, Monday at 9 a.m.
HB 3190 by Rep. Matt Krause establishes a six-month waiting period for no-fault divorce in marriages with minor or school-aged children or disabled adult children. The TCCB supports this bill.
House Criminal Jurisprudence Committee, Monday at 1 p.m.
HB 838 by Rep. Jarvis Johnson prohibits the state from executing a person based on the "law of parties." The TCCB supports this bill.
House Public Education Committee, Tuesday at 8 a.m.
SB 481 by Sen. Lois Kolkhorst allows a student to transfer to another public school if their school is only offering virtual instruction. The TCCB supports this bill.
House Public Health Committee, Wednesday at 8 a.m.
HB 1343 by Rep. Jeff Leach allows a parent to request a certificate of birth resulting in stillbirth. The TCCB supports this bill.
HB 3872 by Rep. Harold Dutton increases respect for right of parents in sexuality education. The TCCB supports this bill.
SB 572 by Sen. Drew Springer requires patient access to clergy during a public health emergency. The TCCB supports this bill.
Senate Health and Human Services Committee, Wednesday at 9 a.m.
SB 1914 by Sen. Cesar Blanco requires that the value of motor vehicles not be included in the resource value in determining eligibility for SNAP. The TCCB supports this bill.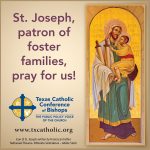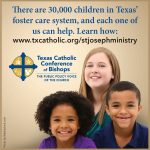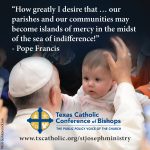 Year of St. Joseph, patron of foster parents
Pope Francis declared a Year of St. Joseph for 2021. May, which is recognized as National Foster Care Month, is a wonderful time to promote the church's St. Joseph Ministry, which builds a community around foster care families. Please consider using these graphics to promote this ministry. SEE MORE GRAPHICS
Seeking Mary's help to end the pandemic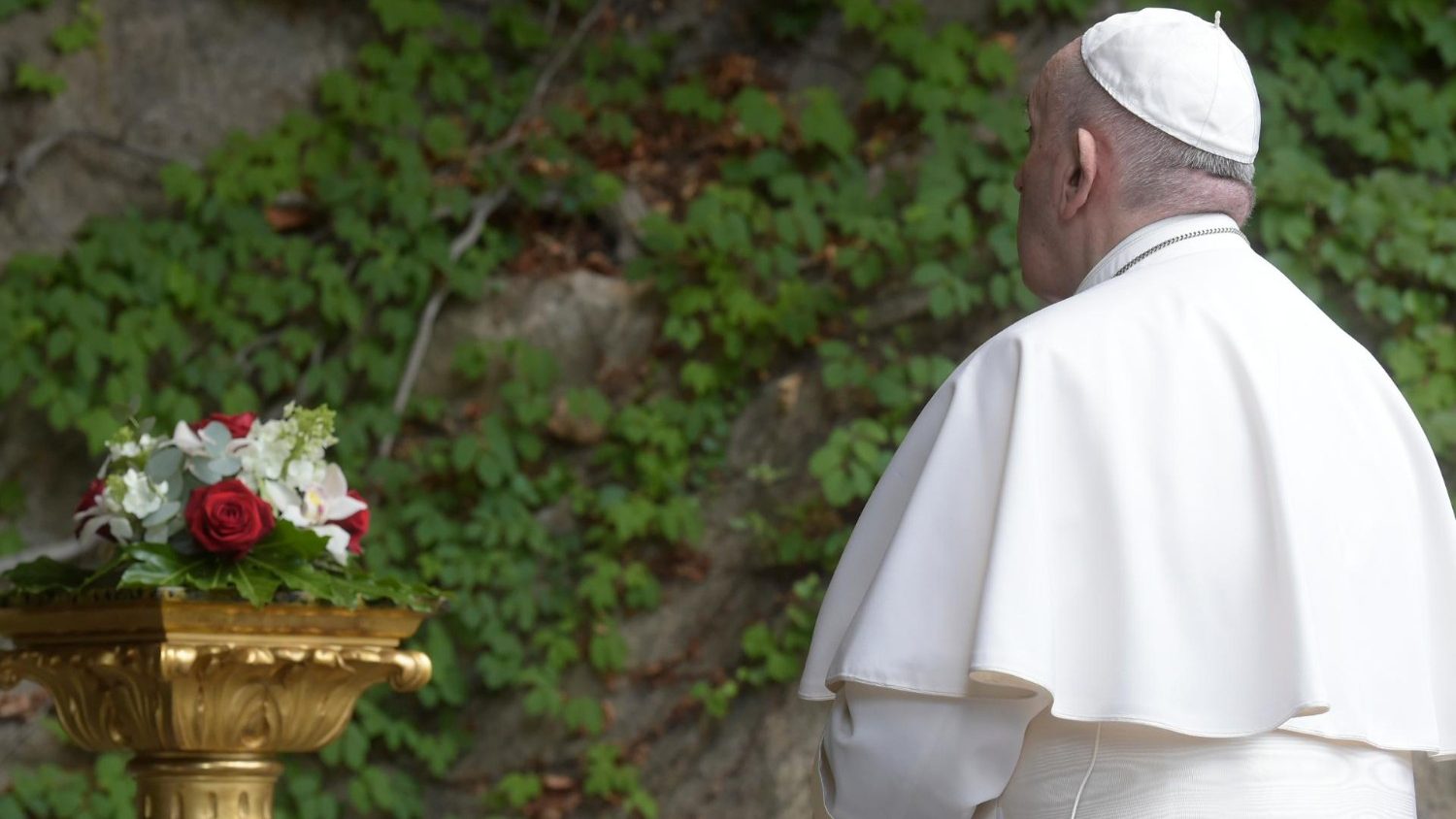 May is traditionally the month of Mary. Pope Francis has invited Catholics and Marian shrines around the world to dedicate the month of May to a marathon of prayer for an end to the Covid-19 pandemic. READ MORE
Upcoming Texas Executions
Please join our bishops in praying for those scheduled for execution, for the victims of violent crimes and for all affected, including their families and communities. As the bishops of Texas wrote in their
pastoral letter
, "May God give us the grace to witness to the dignity of human life. May the Lord console the suffering, protect our community, and grant conversion to those responsible for the inflicting of death and violence upon others."
Prayer for the Legislature
Please pray for all our public servants and elected officials, including our Governor, Lt. Governor, House Speaker, lawmakers, and their staff, that the Lord may grant them wisdom and prudence to work for the common good of all the people of Texas.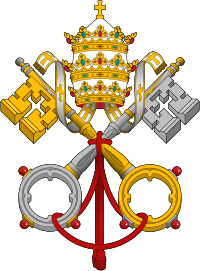 Pope Francis' prayer intention for May
We pray for those who risk their lives while fighting for fundamental rights under dictatorships, authoritarian regimes and even in democracies in crisis.
The Texas Catholic Voice is a publication of the Texas Catholic Conference of Bishops. For more information, write news@txcatholic.org or call 512-339-9882.